Stair Safety Tips For Seniors
One of the biggest dangers that seniors who are aging in place face is stairs. Seniors who live in two story homes or homes that are split and have stairs need to be very cautious so that they don't end up falling on the stairs. When seniors are still sleeping in a second floor bedroom there is a very real danger of them slipping or falling on the stairs when they come downstairs in the morning. Because the stairs are a major fall risk for seniors but it's not possible to get rid of them seniors and their families should do these things to make the stairs safer for seniors:
Get Home Care Assistance
With home care assistance seniors will have someone in the house to help them go up and down the stairs safely. This is important for seniors who live alone and are navigating stairs multiple times each day. Home care assistance can also lower the number of times seniors have to go up and down the stairs by doing things like laundry and housework so that seniors don't have to constantly be going from downstairs to upstairs and back down again. 
Put Treads On The Stairs
If the stairs in the house have a runner on them that runner should be taken off the stairs so that your senior loved one doesn't trip it. Whether the stairs are bare wood or have full carpet on them there should be anti-slip treads placed on each stair. The anti-slip treads will give seniors more traction on the stairs and help them avoid slipping or falling down the stairs even if they have slippers or shoes without much traction on. Treads can be purchased at any big box store and they are easy to put on. 
Light Them Up
One of the best things to do if your senior loved one has stairs in the house is make sure they can see the stairs. Adding floor level lighting is a fantastic way to improve stair safety. And it's really easy to do. LED rope lights can be tacked along the wall just above the floor or run along each stair. LED battery operated rope lights are just one option. There are other lighting options too that don't require an outlet or any wiring. Battery lights last for a long time and the batteries can be changed by a home care provider when they start to burn out. 
Consider a Chair Lift 
If your senior loved one has had a hip or knee replacement, or is going to need one in the future, but they want to continue to live in their own home then it might be worth it to invest in a chair lift for the stairs. Chair lifts will safely convey seniors up and down the stairs as they sit in a comfortable and secure chair. Chair lifts are a bit of an investment but they can make the home accessible for many years to come for seniors who have mobility limitations.
If you or an aging loved-one is considering Home Care Assistance in Webb City, MO please contact the caring staff at Adelmo Family Care today at (417) 206-4576.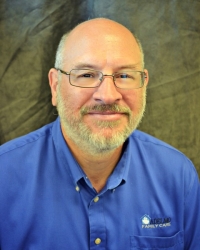 Latest posts by John Good
(see all)